At the end of 2021, when lockdown restrictions were easing, a few mates and I were chatting about 'bucket lists' of things we wanted to achieve. My friend, Mick Harrold, suggested swimming all the ocean rock-pools in Sydney's Northern Beaches in one day. We all loved the idea, and shortly afterwards, the organising committee for the Ocean Rockpool Tour formed (pictured below from left to right: Mick Harrold, Bill Yeates, Simon Rorke and Peter Yeates).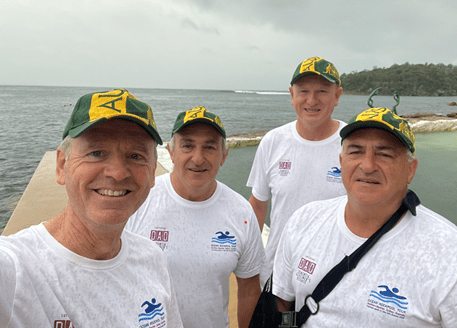 Our aim for the event was to raise awareness about dementia, as well as the impact Covid-19 has had on mental health issues including social isolation, depression and anxiety disorders.
After much planning and organisation, a group of 21 mates participated in the inaugural 2022 Ocean Rockpool Tour on Saturday 15 January 2022.
We started at my place for breakfast at 7.00 am and travelled to Palm Beach to begin our epic journey of swimming one lap of each of the 14 rockpools. We had four teams (red, blue, yellow and green) and competed in a range of events including freestyle, butterfly, breaststroke, backstroke, dog paddle, dolphin diving and pool walking.
The tour finished at Fairy Bower in Manly (Sydney). We travelled 45 km on the road (and more in the pool) and raised over $8,300 for local social charities in support of mental health. The bus driver, Peter Farrell, donated his wages for the day to Dementia Alliance International.
We met countless members of the community throughout the day who were in awe of what we were doing. They openly congratulated us, and some asked if they could join us next year.
The success of the event was also evidenced by the laughter and comradery on the bus and at each of the rock pools. My mate, Simon Rorke, said:
I became friends will Bill over 20 years ago when our children went to primary school together.

We have since become very close friends, so it was very sad to hear that Bill was diagnosed with Younger Onset Alzheimer's Disease in August 2019.

[The ocean rockpool tour] was a brilliant event last weekend when a group of friends including Bill got together to help raise funds … for some very good charities.
Plans are already underway for next year's swim with the hope that our fundraising efforts will provide greater support to those who need it.