Intergenerational playgroups have flourished over the past few years despite the considerable impact of the pandemic. Contact between generations is important. It allows sharing of cultural values, traditions, and skills. It also provides opportunities to gain knowledge, trust and mutual recognition which in turn builds social capital and cohesion.
According to Playgroup Australia:
"Seniors enjoy the sense of fun and energy that young children can bring, and to share their value through lifelong knowledge and experience."
Older participants experience significant improvements in mood with the social connection of  interacting and engaging with young children and their parents. Children also benefit with developing social skills, awareness and empathy, and parents receive social and peer support through shared experiences, relationships and bonds with older generations.
"Intergenerational Playgroups (IGPs) increase wellbeing for young and old, including people with dementia," said University of Wollongong's A/Prof Lyn Phillipson who has conducted research into supported play programs for people with, or at risk of dementia, children (birth to five years) and their parents/carers in both early learning and aged care settings.
"Well-designed play programs offer valuable experiences that enhance quality of life and offer physical, social, emotional, and cognitive benefits for both children and adults," said A/Prof Phillipson.
"We all need a sense of purpose and that doesn't change with our age or our stage. We all need to feel valued and worthy and respected for what it is we have to offer. Intergenerational playgroups provide that opportunity for older people, including people with dementia."
"I reckon it's beautiful to have the kids there," said Ash, a resident who participates in the Playgroups Australia intergenerational program at Morsehead Home for Veterans and Aged in Canberra*.
"It's beautiful to see the faces of the elderly. It brings them back to their life again."
To find an intergenerational playgroup near you, visit the Playgroups Australia website in your state or territory.
Please note that due to COVID-19 restrictions many Intergenerational Playgroup sessions are not currently operating within aged care facilities.
*Featured on SBS The Feed: Rugrats in Residence (October 2017)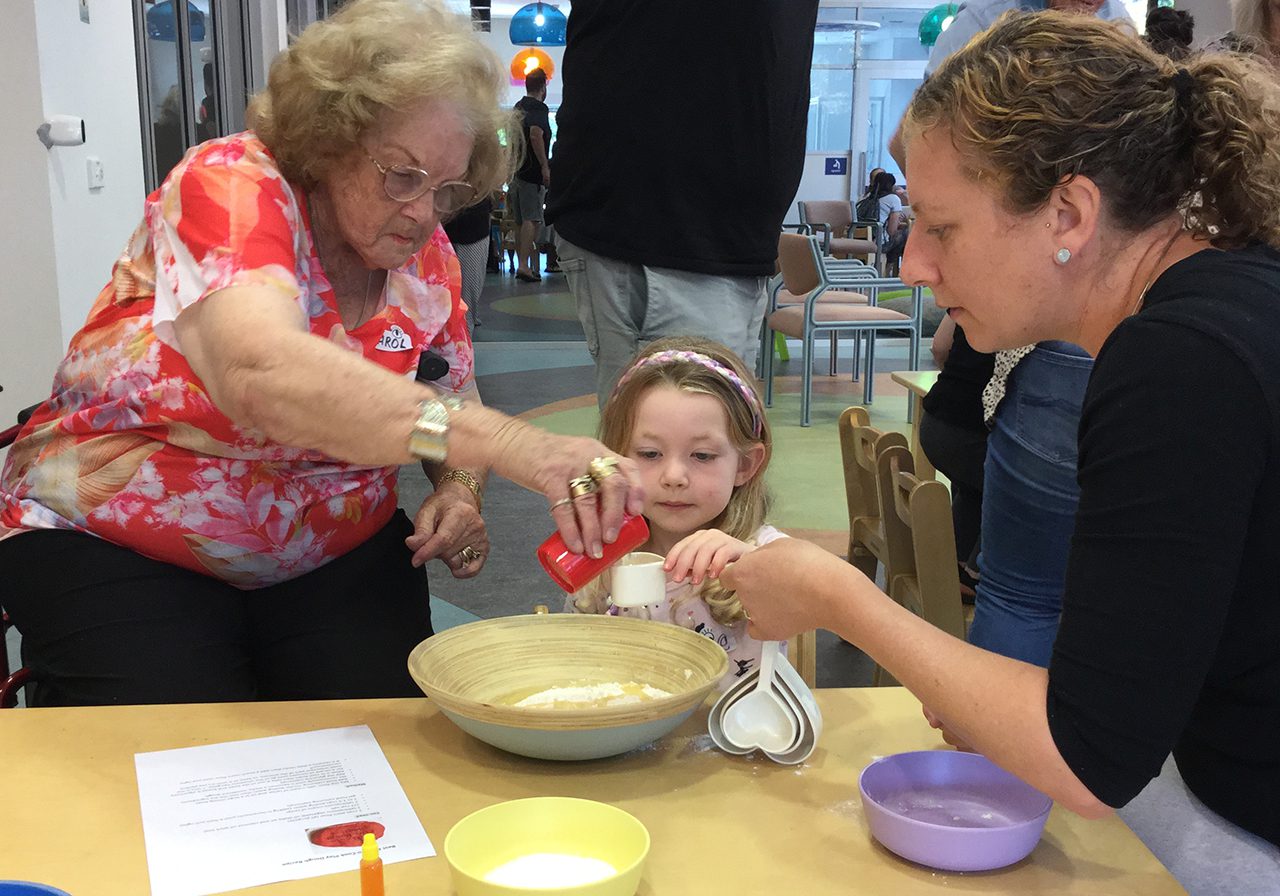 For more...
If you haven't seen it already, watch the ABC's Old People's Home for Four Year Olds:
The first series explores the impact of a group of 4-year-olds visiting an aged care facility.
The second series shows older people living alone at home spending time with a group of 4-year-olds at a specially designed preschool.